Pe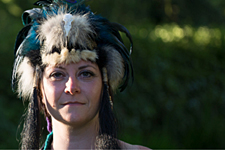 Pe has been interested in the spiritual world from an early age, but she really got the connection about 25 years ago when she started experiencing the community of reclaiming and its wonderful witches.
She feels deeply connected to water rich southern Germany, but also to many other magical places and old cultures of this earth.
In her working life she moved her focus from solving usability problems to being an artisan, an arts teacher and organizer of small workshops. She combines her love for the beauty of live and her spirituality and celebrates the connection of art, magic and people.
Martin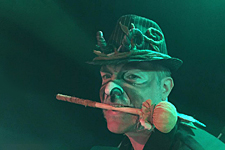 Martin is a creative shaman, weaving meditative stories and imagery from words and music.
Spending some years of his early childhood in tropical Papua new Guinea, he soon discovered his love for strange instruments, sounds, and stories. Originally a visual person, he chose to experience the very gradual process of going blind as a shamanistic transformation. About 20 years ago he learned of the method of deep imagery, and has since used and taught this process as a path to contact, re-integrate, and learn from the often fractured inner parts of self.
In his professional life he has been a graphic artist, translator, and now works as a software engineer. He also teaches the didgeridoo and classes on self-development.
Martin lives with Pe in a house with a garden where crows and other creatures of the land are welcome.
Helen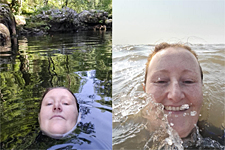 Helen is a Welsh Witch. Born between the coalfields and coast. Rooted with dragons in the deep, dark earth and flowing with the clear rivers into the sea. Growing up with the poetry of myth and legend. She has always lived and worked closely with the elements, keeping bees, working with grown and foraged herbs, only discovering that this was Witchcraft 12 years ago. Since that time Helen has studied a range of magical practices with various teachers in Reclaiming Witchcraft and Shamanic traditions. This is Helen's first time venturing into the role of student teacher.
Professionally Helen is a consultant clinical psychologist. Working in depth with the unconscious as well as conscious emotional and psychological processes, with dreams and imagery. She lives with her partner, their two teenage children, cats and bees in a beautiful village in South Wales.
Kathrin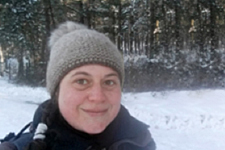 Kathrin has been communicating with nature and the spirits around her home since she was a child. The natural connection to nature weakened somewhat over the years, the longing for the connection – even with like-minded people – remained. That's why Kathrin tried out different methods, from the practical magic used in the student room to workshops where she also came into contact with the method of chakra travel. She found a "spiritual home" when she came into contact with the reclaiming community and got to know the principles of reclaiming.
The question of our own identity, how we connect and what we do with our place in this world also occupies Kathrin professionally. She is a historian and works as a freelance genealogist. In this capacity she also works as a coach in the USA.